Teika's Trials
Apache's final checkup at the Vet's office was today. Though she still has a little irritation at the back of her throat, Dr. Becky doesn't feel its an infection, but rather, signs that Apache is having some drainage issues from her sinuses. Likely, Patchie is sensitive to all of the cockatiel dust and a hepa purifier will solve a
lot of her issues. I'll watch her for future signs that her allergies are developing into another infection, but she's gained back to 90 grams (YAY!) and is active and in good feather again. What a RELIEF!
In another entry, I posted that I had concerns about Teika. Nothing that I could really "put a finger on". She had lost a little weight, but I had tried converting the birds over to a pelleted diet to get Trinny and Taxi's weight gain under control. Teika and Patchie suffered for it so it was back to a seed and pellet mix. It seemed to work, but Teika still seemed a little "off" to me. Nothing I could pin down though. She regained weight and wasn't wheezing, sneezing or seemingly ill, but she wasn't being very vocal, and just seemed a little "off". Tense and not very friendly, and not as playful as she had been, yet not sickly acting. Just.. "Off".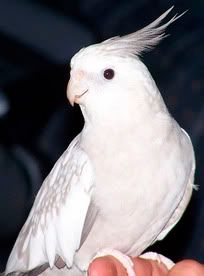 So, I made an appointment to have Teika seen while Patchie was getting her re-check. Dr. Becky exclaimed the MINUTE she laid eyes on Teika. (She gets that! HEHE!) She's SOOO pretty (and she knows it!)
The good news is, Lil Miss Teika checked out fine health wise. Her fecal came back fine, her nares are fine, her choana is a good color (not irritated like Patchie's) and her breathing and heartbeat are sound great. The bad news is, the stress she's endured is showing up in little ways. The fact that she was rehomed, underwent hormone shots, had a change of address prior to moving in with me, has played ring around the cage mates (never parting with Trinny but having Patchie pulled due to illness, and then other birds juggled due to hormones, etc) has left her a little rattled. We now have a cage arrangement that seems to suit her well. She and Trinny share a cage with Patchie and Silver, while Taxi and Neo share the other half. Teika has been coming out of her shell a bit since I've set things up this way so hopefully it will continue to be an upward trend. How was the vet able to tell she was stressed? Apparently there are these fine lines known as "stress bars" present on her feathers. They don't cause any damage to the feather and won't weaken them, but they are just little dark lines that are very difficult to notice unless you know what to look for. AWWWWWWW! Poor lil Teika. Dr. Becky wasn't able to tell me if they are on new feathers or old ones or both, but what really matters is that I'm aware that she is very susceptible to stressors in her environment now, and I will take measures to make sure she's accounted for in every way.
Teika and Apache weigh exactly the same. And funny, Patchie is at prime weight and Dr. Becky said Patchie is "chunking up". She even looks rather "squat" compared to Teika. Dr. Becky said Teika is a tall bird and she would like to see 5 more grams on her frame. She's not "underweight" but considering the stress she's been under, a few more grams wouldn't be a bad thing for her. Though they weigh the same, Teika somehow feels lighter on my finger than Apache does. Odd huh?
The last thing Dr. Becky noticed was Teika's beak. Though she's in good physical condition, she did notice that Teika's lower mandible is a little off center (not ground properly down). Not horribly noticeable but just enough. Since she didn't see Teika right after I got her, its hard to establish a foundation of "before and after" because Teika is now quite good about eating pellets. She likes the green ones. Dr. Becky feels the prime cause is nutricianal and wants me to put more pellets and less seed into Teika's dish as soon as I get her plumped up. I'm also to encourage her to chew more on mineral blocks (for mineral content AND to help grind that beak down) rather than cuttle bones and I have an idea to do that. She said I can even powder a mineral block and sprinkle it in her seeds if she's not eating enough pellet until she's more established on Pellets. She wants to see her back in six months to see how she's coming along. She also noted that Teika's claws are very long (even though I've clipped them) which could also be related to the nutricianal thing thing. I should have asked her what veggies I should encourage Teika to eat more of, but didn't think of it. If she's not showing improvement in 6 months, I'll have some blood drawn to make sure there's not a thyroid, liver or some other organ playing a part in why her beak and claws are growing like that. I also meant to ask if the hormone shots may have had something to do with it, but I was so intent on following her instructions I forgot to ask my questions. LOL! Fortunately, I have a great relationship with Becky and anything I think of after the fact, I can always call her up and ask.
So that's the update for now. Everyone else is doing great! I'll have to post about the rest of the flock here soon since everything has been about Patchie and Teika as of late!